A letter from your taxidermist……
As a young child I was drawn to the out-doors. My family spent many summers on the lakes where I spent most of my time fishing. No one in my family really enjoyed fishing or hunting, however the intrigue sparked my passion for taxidermy. It wasn't but a few years later when one of my now life-long friends opened my eyes and I was inspired to dig into the outdoors and all it had to offer. He taught me how to hunt deer, shoot archery along with everything outdoors and I have been passionate ever since.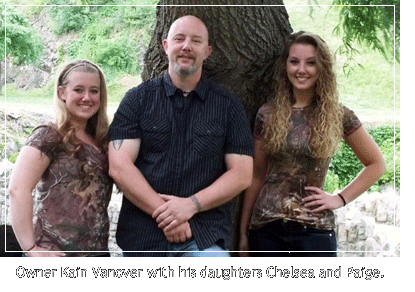 I have been intrigued by taxidermy since childhood and so naturally, I was led to attend an accredited taxidermy school. I worked in our family business as an Auto Body Mechanic and Professional Painter for 12 years but always needed more. Oddly enough Taxidermy isn't a whole lot different however the end result is more satisfying than anything I have ever experienced. The year I graduated from taxidermy school was one to never be forgotten for my family and me. We lost 3 family pets - the oldest was a 14 year old boxer due to old age and an 11 month old that had and rare disease. Fire struck that same year and we lost 90% of out taxidermy studio and belongings. Within the same year, our youngest daughter had to have brain surgery due to epilepsy.
From everything that we endured and the strength we gained, Rising Phoenix Taxidermy Studio was born. We will not be beat or kept down- we will rise above the ashes and be magnificent. What does not kill you will make you stronger with an appreciation of everything that surrounds you. I have done my best to instill the Rising Phoenix Taxidermy symbolism within my children and family. Rising Phoenix Taxidermy does not believe in the phrase "commercial mounts". Every mount that leaves our studio has show potential.